Aluminium Slat System
Designed for style, our Aluminium Slats are streamlined, sleek and durable with minimal maintenance required. Choose from a full range of premium powder coating colours to complete your desired look. Whether you are fencing, screening, balustrading or creating a stylish backdrop our Slats will have you loving your outdoor space.
Spacing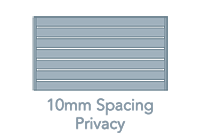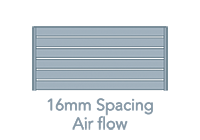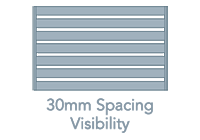 10mm Spacing Aluminium , 16mm Spacing Aluminium, 30mm Spacing Aluminium
Our Aluminium Slats with 10mm spacings comply with Australian Pool Safety Regulations. *When installed correctly. Always check with your local authority for latest pool safety requirements. (16mm & 30mm DO NOT comply)
Requirements by state: Victoria, New South Wales, Tasmania.
BENEFITS OF QUALITY FENCING
"Made to fit" – We can manufacture to your unique circumstances so you don't have to 'make do'. Height, colours, angles, gate options and accessories – it's your choice!
Strong & Durable Aluminum also available in steel
Easy Install System for even the newest DIYer- a simple project that will leave you feeling proud and satisfied.
Time Saver – with little to no maintenance to keep your fence looking like new, enjoy your weekends living life.
5 stage pre treatment – our unique cromate pre treatment manufacturing process ensures a superior finish for your fence, so it will stand the test of time.
Full range of premium powder coated colours – from traditional to modern colours to suit your home.
Full range of accessories – gates, letter boxes, latches and automation available to complete your project in style.
Built to last – your will not crack, splinter, warp, shrink, twist or delaminate. It really is superior for longer.
Gates to match – pedestrian, double entry, swing, sliding and automation available.
Some sizing restrictions apply to ensure the finished look of your new fence (Speak to our friendly sales team to discuss how we can work with you on your height & length requirements)